PAVILLON FRANCE Soup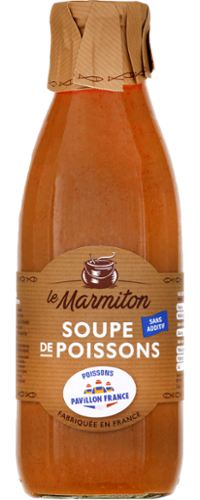 A true mark of recognition, this label aims to support French production and encourages the consumption of products from fishing.
A product bearing the Pavillon France label must be :
- with 40% of fish
- Exclusively made from fish caught by non-industrial means in the past 24 hours
Pavillon France is the garantee of products fished by French ships, traceability throughout the chain and optimum quality.
Ingredients :
Water, Pavillon France fishes 40%, tomato concentrate, vegetables (carrots and leeks), colza oil, salt, spices and aromatic herbs.
May contain traces of crustaceans and molluscs.
Usage Tips:
Add croutons spread with rouille sauce.