Red Label soup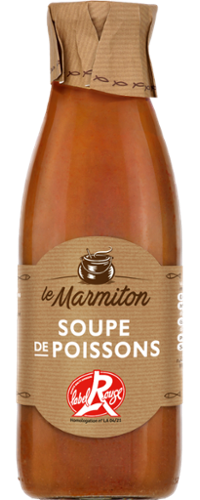 This label is a genuine mark of recognition guaranteeing quality superior to that of common products of a similar nature.
A certified, controlled product with specific characteristics:
*40% fish, mostly grondin.
*Exclusively made from fish caught by non-industrial means in the past 24 hours.
*Quality ingredients: extra virgin olive oil, spices and saffron
A delicious, authentic fish soup with no thickeners or preservatives.
Ingredients :
Water, fish 40% minimum, tomato concentrate, vegetables (carrots, leeks), extra virgin olive oil, salt, spices (including saffron) and aromatic herbs. No thickeners or preservatives. May contain traces of shellfish.
Usage Tips:
Add croutons spread with rouille sauce.