Lobster Bisque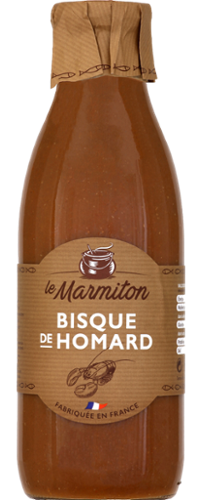 The addition of white wine and Burgundy brandy is what gives our bisque its characteristic flavour. Artisanal production methods and top-grade ingredients guarantee you a high-quality product.
Available in 48cl and 97 cl.
Ingredients :
water, lobster 18%, fish, rock fish, modified cornstarch, cream tomato concentrate, onions, salt, white wine, rapeseed oil, carrots, Burgundy brandy, spices, saffron.
Usage Tips:
This bisque is already velvety but you can add a little cream to obtain an exquisite sauce that will accompany your fish dishes or quenelles.